At least 9 attractive activities per year like excursions, gatherings or lectures
– YES-DC Annual Report 2012
Adverb of excursion report
It's an early Friday morning when two YES-DC vans depart from the city of Utrecht on their way towards Gent, Belgium. Goal of the day is to get to see some parts of the biomass supply chain that comprises an important part of the Belgium biomass capital that Gent is nowadays. Part of our program are the Electrabel 100% biomass plant and the bio-based Europe pilot plant facility, which is to be concluded with an informal program downtown…
A bi-weekly update of all incoming mail/vacancies/discussions/activities etc.
Newsletter example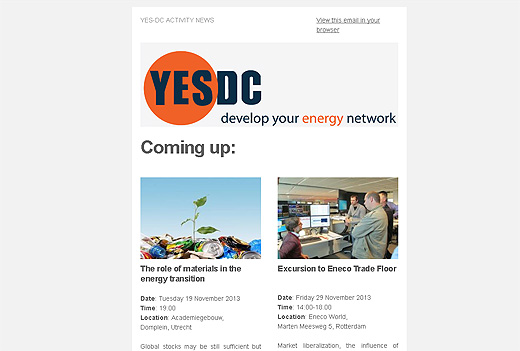 Relevant vacancies
Example vacancies
Climate Policy Researcher at PBL Netherlands Environmental Assessment Agency
Multi Country Programme Leader Renewable Energy Innovations – at SNV Cambodia
Global Sector Coordinator Renewable Energy – At SNV Netherlands (based in Bukina Faso)
Junior researcher position on land use change related to biomass/bioenergy at Utrecht University
Project Manager EUEI Partnership Dialogue Facility
VN Jongerenvertegenwoordiger Duurzame Ontwikkeling at NJR
PhD in Wind Energy at Oldenburg University (Germany)
Pricing Analist at Eneco Retail
Operationeel Analist Beheer at Windunie
Energy & CO2 consultant at Shell
Industrial Research Manager, KU Leuven (Belgium, involves travel and networking)
Multiple Vacancies at ECN
Research Assistant, Energy Program at IIASA
Industrial Designer at SimGas BV
PhD position at Leuphana University of Lueneburg, Innovation for Sustainability
PostDoc in Foresight and Innovation Systems at DTU
2-year junior-researcher position at Utrecht University on Sustainable second and third generation feedstocks
A discussion medium through our LinkedIn Group
Linkedin example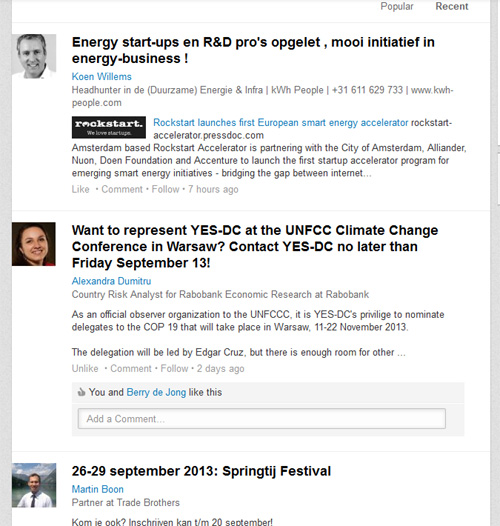 A large network of people that are working in the energy/developing world
Social networking parties where drinks are on our account
And best of all…. your first YES-DC activity free-of-charge!