Excursion to a lignite mine in Germany
September 21st, 2003
Elke van Thuijl
It was 9:00 hours on a Sunday Morning when a group of nine YES-DC members gathered at the parking lot at the Jaarbeurs Square in Utrecht for an excursion to a lignite mine in Germany. After a drive of about three hours, we arrived at a parking lot in Bedburg-Kaster, where we could take a guided tour by coach to see the Garzweiler mines (or in German: "Tagebau Garzweiler").
The Garzweiler mines, located betwe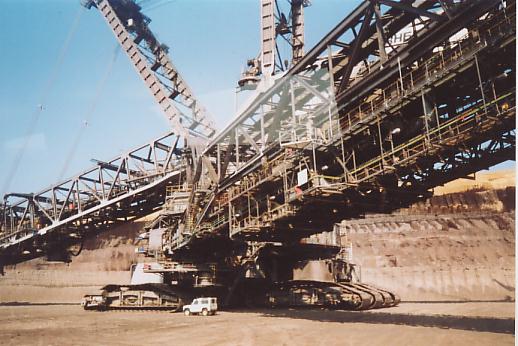 en Köln, Aachen, and Mönchengladbach, are exploited by the German energy company RWE Rheinbraun AG. The mines comprise a total land area of 66 km2. From the coach we had a pretty good view on the mining area, this truly was the biggest "hole" I had ever seen! The annual lignite extraction by RWE is about 90 to 100 million tons, of which about 90% is used directly by RWE to generate electricity. Lignite is extracted from the mines by large paddle wheel dredgers and subsequently transported to a storage bunker by conveyer-belts (see pictures). These conveyer-belts have a total length of ca. 77 km! From the bunker, the lignite can be claimed for either the Frimmersdorf power plant or train loading, according to demand. The trains transport the coal to more distant power plants or to upgrading plants, using the mines' own North-South-railway. The total installed capacity for electricity generation from lignite amounts to ca. 10,000 MW. These six power plants produce about 73 billion kWh of electricity per year.
RWE takes several measures to reduce dust emissions and noise. For example, swirling of dust from coal extraction and transport is prevented by spraying water on the paddle wheel of the dredger and the conveyer-belts. Re-cultivation ("Rekultivierung") takes place at sites that are no longer used for mining. According to the company's brochure, this re-cultivation is not meant to imitate nature. It is considered to be "starting aid", the main work must be done by nature itself.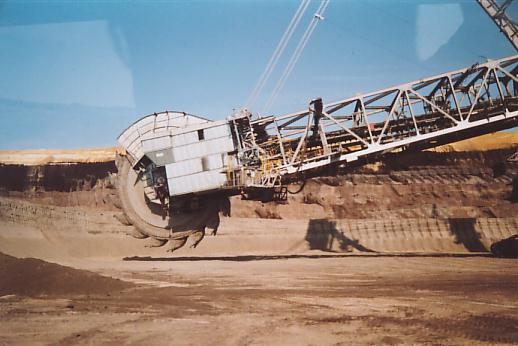 In total, a land area of 34 km2 (or 18,000 ha) was re-cultivated in the period 1907-2001.In the area of the Garzweiler mines, many people are dependent on the extraction of lignite. They work either in the mines, at the power plants or at suppliers. Sometimes, people need to be relocated in order to extend the mining activities (this is called "Umsiedlung"). The Garzweiler mines are named after a village of the same name, that was relocated in 1984-1989. Relocation of villages in the area is still an ongoing process. I think this was what impressed (or shocked?) me the most: the incredibly high impact of the lignite mining on nature and the people living in the area.
In the afternoon, we continued our trip and we drove to Schloss Paffendorf, where the information centre of RWE Rheinbraun AG is located. Unfortunately, the information centre was closed. But we had a very nice time enjoying lunch and a few drinks together on the very sunny terrace of Schloss Paffendorf. There was also an exhibition of paintings inspired by the works of RWE. One of them appeared to be very intriguing to some of us, they kept on walking back and forth in front of it
.
Then it was time to drive back home, after a very interesting and relaxing day!