Congress
Not an ordinary YES-DC event: The congress will bring you loads of interaction combined with expert speakers. The day will start with a lively debate, followed by two interesting talks which will get you thinking. The day will end with a workshop in which you are invited to participate and experience the knowledge of fellow young professionals.
On Saturday the 15th of November, YES-DC is organizing its bi-yearly congress on "The New World order; shifting geopolitics". The global geopolitical landscape has changed significantly in recent years, and supply and demand for energy has been one of the drivers. Demand for energy in China and India are steadily increasing along with their economic and political power in the world. On the other end of the spectrum the States are becoming more self-sufficient resulting in a decreasing involvement in the rest of the world. Will we see more "trade wars" similar to the PV import regulations, where will the innovation of the future energy solutions take place and what will be the role of emerging countries in all of this.
[message_box title="Details" color="white"] Date: Saturday 15 November 2014
Time: 13:00h-18:00h
Location: Academiegebouw, Achter de Dom 7A, 3512 JN Utrecht
Costs: Free for members and non-members[/message_box]
Program overview
13:00 Welcome with tea and coffee
13:15 Introduction word from the moderator of the day: Fred Sengers
13:25: Debate hosted by Rik Komduur from GasTerra
GasTerra is the Dutch national gas company and as largest EU member state natural gas producer. They are dealing with global geopolitical debates, reporting and bridging the gap between governments, industry and NGOs. After a brief introduction the focus of the debate will be on the geopolitical impact of the worldwide shift in energy consumption from OECD to non-OECD and a shift in energy production from non-OECD to OECD, with a particular focus on natural gas.
14:05 Break with Tea & coffee
14:25 Fred Sengers – How China is changing the global energy market
The Chinese government, state owned enterprises and state banks are working close to ensure China of a constant flow of food, fuel and raw materials for the next decennia. What are the consequences for the countries that rely on free trade? Will the consumer in the west pay the price?
15:05 Pepijn Vloemans – China and the West: two types of energy innovation.
China's huge solar and wind investments are part of long term plan to drive down the costs of renewables below those of coal. Can China afford to do this? China is copying and scaling rather than innovating. Radical, crazy, totally new inventions like Tesla Motors and Makani Power still originate in the West. What is the future for 'made in Europe'?
15:40 Break with Tea & coffee
16:00 Workshop Leonhardt van Efferink – Geopolitics of Natural Resources
During the scenario workshop, Leonhardt will facilitate the participants with exploring, challenging and explaining perspectives on natural resources. In groups you will develop and present your own future scenario with the tools provided.
18:00 End of the official program
18:30 Drinks at Academiegebouw
19:30 If you are still impressed by the day continue the discussion over dinner. We will eat tapas at Elmundo. Costs willl be €25 for food & some drinks. You can register for dinner at a later instance by sending an email to to events@yes-dc.org (latest Thursday 13 november)
The congress is held in the beautiful Academiegebouw of the University of Utrecht. The congress is free of charge and we encourage all YES-DC members to introduce non-members to YES-DC via this event.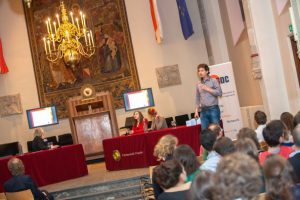 Speakers
Rik Komduur
Rik Komduur works for GasTerra in the Industrial Sales Department. GasTerra is the Dutch national gas company and as largest EU member state natural gas producer they are dealing with global geopolitical debates, reporting and bridging the gap between governments, industry and NGOs. Rik is also secretary of the Task Force on Geopolitics of the International Gas Union.
Fred Sengers
"Rusland heeft China nodig en is gretig om zijn olie, gas en hout aan Peking te slijten. China heeft stapels cash op de plank liggen en investeert graag bij zijn noordelijke buurman. De Chinezen kijken met bewondering hoe Vladimir Poetin zich in woord en daad tegen het Westen richt."
Fred Sengers is the moderator of the day and will share his expertise during his presentation. He is China-expert and writes in newspapers, speaks in the media and gives guest-lectures at universities. Mr Sengers is also member of the Chinia Expertise Centre and writes his own blog on www.blogaap.nl.
Pepijn Vloemans
"De afgelopen weken reisde ik door China. Ik zag het op een na hoogste gebouw (Shanghai), het duurzaamste kantoorgebouw (Wuhan) en het grootste windmolenpark (Gansu) ter wereld. Het vage besef dat ik had van China's opkomst werd plotseling concreet: de alom vertegenwoordige bouwplaatsen, de ambitieuze jonge bevolking, de perfect op tijd rijdende hogesnelheidstreinen."
Pepijn Vloemans is a journalist (NRC next, De Groene Amsterdammer) and writer and is obsessed with (sustainable) innovation. For his next book on Race of the Century he has travelled and lived in Germany, Silicon Valley and China. He will give his opinion about big solutions which are necessary for the huge challenges of the 21st century, and which countries will have the benefit.
Leonhardt van Efferink
Leonhardt van Efferink works as trainer-moderator with GeoMeans. His workshops, Summer Schools and blog help professionals and students broaden their perspective on economic and geopolitical trends and improve related analytical skills. To do so, Leonhardt offers insights, concepts and tools from country risk analysis, geopolitics, media studies and scenario planning.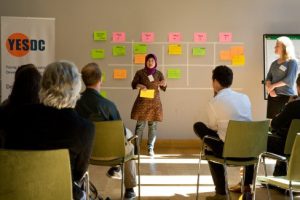 Location