YES-DC seeks new energetic board for 2016!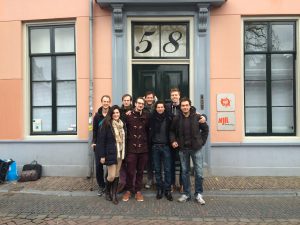 As this year's last events is coming closer, it is time for us to start looking for a new board for YES-DC for 2016. We are looking for enthusiastic and ambitious people to organize next year's YES-DC events. Our distinctive group of members, to start with, provides you with plenty of opportunities for interesting lectures and exciting excursions!
A board position in YES-DC offers you the following opportunities:
You get to shape the development strategy of YES-DC
As a YES-DC representative, you can easily extend your network
You get the room to realize your creative ideas!
You can explore and extend your network and knowledge on a topic of interest
You strengthen your CV with experience in organizing events
You get to train your management and/or leadership skills
You can build a strong relationship with fellow Board Members

Are you interested to be part of the board of YES-DC from March 2016 onwards? Here is your chance to join. We currently have several vacancies; besides standard positions such as chairman, treasurer and secretary, we also offer the opportunity to fulfill positions related to disciplines focused on promotional and organisational characteristics. Based on the profiles of those interested of becoming board members, we will allocate responsibilities. Next to the board, a commission will be formed for the organization of events, the activity commission.
Here are some of the tasks you can expect to fulfill as a board member
Coordinating activities of the board;
Doing the financial administration for YES-DC;
Being responsible for maintenance and improvement of the website;
Maintaining and developing relations with other organizations;
Organizing YES-DC events ; Activities coordinator/member of the activity committee;
External relations and (international) network development;
Managing social media and improving the promotion of YES-DC through such mediums;
Website and/or newsletter development;
Congress (bi-yearly conference) commissioner/member of the congress committee;
Fundraiser

Just below this text we offer more in-depth information; if you have any questions please direct them to the board member currently responsible for that position.
If you are interested in joining YES-DC's board in 2016 and want to contribute to future events and the further development of YES-DC, then let us know! Please include the following documents in your applications: a (1) short motivation letter with your ambitions and preferred position and (2) information about yourself or information about relevant former experiences and send it to info@yes-dc.org (as soon as possible) . In February 2016 we will host a general interview session, where all applicants will meet and greet with the 2015 board to discuss and share ambitions.
We invite all members to join the board, irrespective of nationality or experience. Students are also very welcome to apply.
Chairman YES-DC board
The president leads the board of YES-DC. It is his or her job to coordinate the policy of the association, taking the values of YES-DC in consideration. Above that, you are the link between the other board members, it is your job to ensure that everybody cooperates together as a team. The president leads the boards meetings and sets up the agenda of YES-DC. Together with the secretary and the treasurer you are the heart of the association, making sure members and board members get most out of their membership.
In return, YES-DC offers a beautiful network where you are able to challenge you management skills, shape the development strategy of YES-DC and, together with the board, organize events and bring our members together.
Secretary
The secretary is responsible for managing the YES-DC email and taking care of the registration of new members. You make sure incoming email is answered and directed to the responsible board member and you manage the members' database. Furthermore you are responsible for providing minutes of board meetings and you prepare the newsletter of YES-DC. You keep track of the LinkedIn page and you manage the requests to join. An interesting position in which you can challenge your administrative skills and get the opportunity to work with intelligent professionals in the energy sector. In return you will get a good chance to work in a nice team and book successes with the organization of interesting energy events!
Treasurer
As treasurer, you are taking care of managerial accounting, financial accounting, membership contribution, and membership administration for YES-DC. Board members will consult you about financial decisions, which mainly involve decisions about the budget for activities.
The activities of the treasurer are in detail:
Collection of membership contributions
Making financial reports: balance sheets, budget, etc
Taking care of the financial administration, like archiving bills, invoices and credit transfers.
Paying bills and invoices on time.
Securing the costs of activities are within the set budget
Justifying made costs towards the members of yes-dc. The treasures must secure that expenses made are reasonable and justifiable.
Making and presenting the annual financial report of the previous year during the general members assembly.
Ensuring that YES-DC is and stays a financial sound association
Commissioner of Internal Affairs
YES-DC seeks a pro-active and enthusiastic new board member dealing with YES-DC's Internal Affairs. As the commissioner of internal affairs your job is to enable digital communication, keep up a continuous or increasing flow of online traffic and to adjust digital media to perfectly fit with the needs of (candidate) YES-DC members. Moreover, you must be genuinely interested in monitoring (candidate) member activity during an open event registration period, as well as evaluating the degree of appreciation for an event, and act accordingly in terms of steering organisation and promotion.
Ideally the candidate has the following skills:
Has experience in owning and administrating a website before,
Has some intermediate level of understanding in webscripting languages such as CSS and HTML;
Know the basic concepts of databases, Content Management Systems, FTP, and hosting/domain name servers
Has some data-structuring skills (e.g. via R scripting), and is able to monitor, research and present current trends in event activity (How much do participants like the events? Which medium is most effective to reach out to members? etc).
Is able to timely respond to requests related to the website or provide event related intel.


In return, YES-DC offers a challenging but inspiring environment where you as Internal Affairs officer have the ability to expand on your organisational and managerial skill. The impact of your work is directly related to the number and appreciation of event participants and YES-DC members.
Commissioner of External Affairs
YES-DC seeks a pro-active and enthusiastic new board member dealing with YES-DC's external Affairs. As the commissioner of external affairs your job is to maintain relations with our sister organizations and bring new sister organizations to our network. You will get in contact with a great variety of organizations: from student associations to NGO's, or multinational companies. YES-DC invites many different people to their events. It will be your task to include them – and their organizations – in our permanent and growing network.
In return, YES-DC offers a challenging but inspiring environment where you as External Affairs officer have the ability to expand on your networking skills. The impact of your work is directly related to the number of sister organizations and long-term relations of YES-DC with different organizations.
Apart from YES-DC meetings and general tasks as a board member, you will visit gatherings and drinks of (sister)organizations. You will spend 1 to 2 hours a week maintaining relationships. Furthermore, you will be responsible for the yearly networking event of YES-DC.
Activity Committee (multiple positions)
YES-DC organizes activities, such as excursions, lectures and debating sessions on the topic of energy, sustainable development and/or development cooperation.
The activity committee is the beating heard of the organization, organizing the events throughout the year. For inspiration, please take a look at our long list of past events. Are you in to energy? And can you bring likely minded people together? Or do you want to (learn to) do that? Then the vacancy for member/commissioner of the activity commission is definitely something for you. With little input, you will organize events for young professionals, together with a motivated team of other volunteers. Besides organizing these events, you will also learn things about marketing, social media and management related issues.
As a member of the activity committee you;
Set the event theme or topic
Draw up the theme boundaries and main storyline of the event
Contact the speakers
Promote the event
Moderate the event
What we are offering:
Extending your network as a YES-DC representative, freedom in realizing your creative ideas! Explore and extend your network in the topic of your interests and strengthen your CV with experience in organizing events. Don't forget, the YES-DC network is strong. If you aim high in contacting speakers, chances are great that they already know YES-DC.
The YES-DC board or commission is voluntary, travel expenses can be reimbursed.
For questions or more information, please contact YES-DC via info@yes-dc.org